The People Keeping Well Partnership
What is the People Keeping Well Partnership?
People Keeping Well is sometimes known as Social Prescribing or community referral. It is all about 'making every contact count' and connecting people to a range of local nonmedical services to improve health and wellbeing.
The partnerships meet regularly to consider how they can work together to support the community to live well and tackle local issues. Each partnership is led by a local voluntary sector organisation which works with a wide
range of people who live or work in that community. Each partnership is different, depending on local needs, but might include other voluntary groups, libraries, local forums, Councillors, neighbourhood Police Officers, transport services, housing associations, TARAS, faith groups, food banks and GP practices. Social Prescribing includes having a 'what matters to me' conversation to identify what support is needed. People are then put in contact with services that can provide help and advice.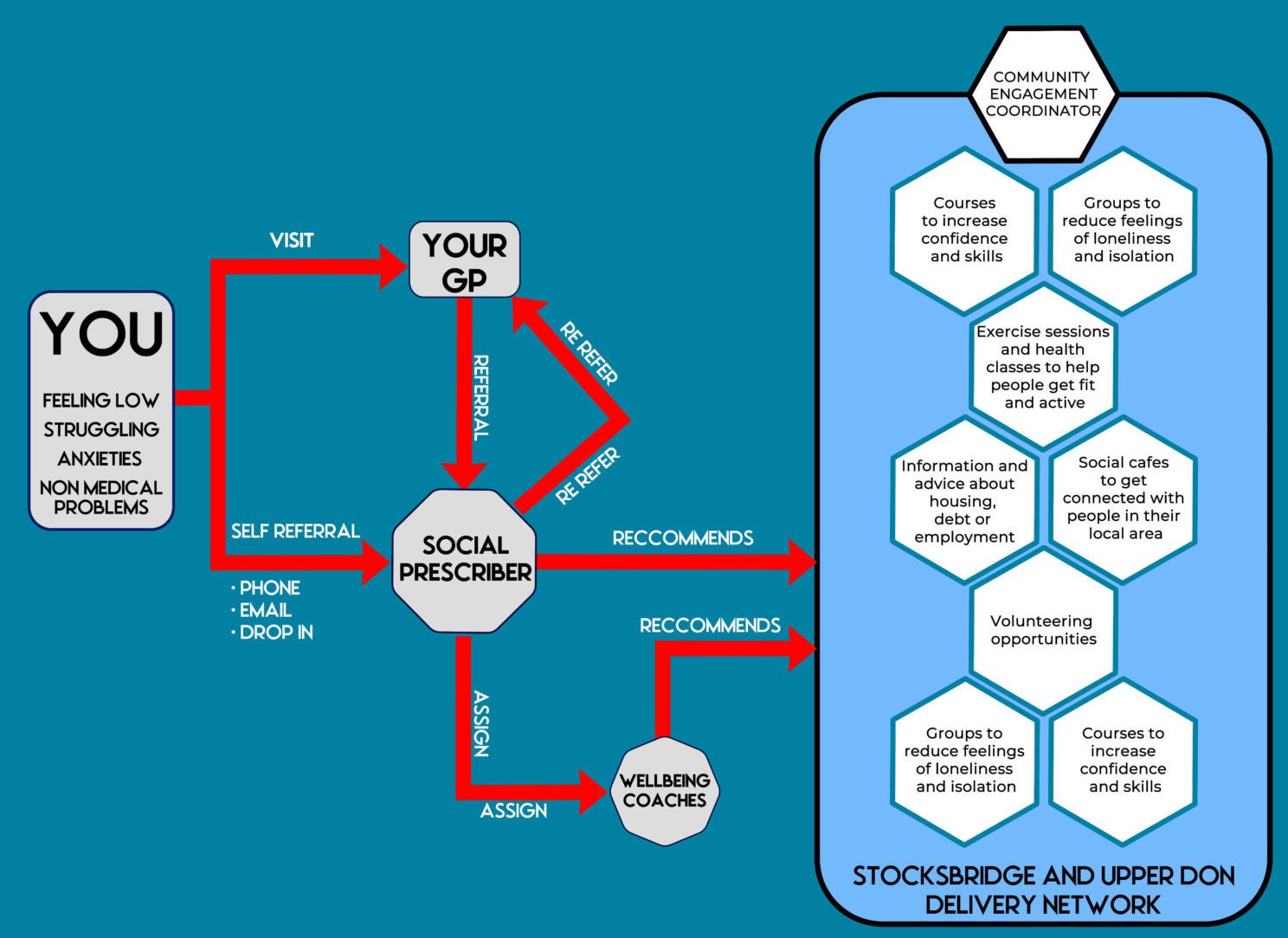 Who is a part of the partnership already?
1st Stocksbridge Scouts
3rd Stocksbridge Scouts
Baby Beats
Bolsterstone Quilters
Bradfield Parish Council
Citizens advice bureau
Co-op
Deepcar Brass Band
Deepcar Girl Guiding
Deepcar Medical Centre
Dransfield Properties
Friends of Coronation Park
Friends of Glen Howe Park
Friends of Oxley Park
Garden Village Community Association
Greave House Farm
Happy Hands
Helping Oughtibridge Worrall & Wadsley locals
Ikon church
Inman Pavilion
InYerFace Arts
Living well guide
North ward Local Area Committee
Nurture nature Healing Garden
Oughtibridge and District Lunch Club
Oughtibridge Brass Band
Oughtibridge Gala Events and Donations Charity
Oughtibridge Parish Church
Oughtibridge Surgery
S.T.E.P.
Sheffield City Council
Sheffield Futures
Sheffield Hallam University
Sheffield Housing
Sheffield Mental Health Guide
Sheffield Teaching Hospitals
Singing in… Choirs
Smithy Moor
St Anne's Happy Hands Preschool
St Nicholas Church, Bradfield
St Nicholas Church, Bradfield
Steel Valley Beacon Arts
Stocksbridge and District WI
Stocksbridge Art Society
Stocksbridge Community Care Group
Stocksbridge Community Leisure Centre
Stocksbridge Library
Stocksbridge Rugby Club
Stocksbridge TARA
Stocksbridge Town Council
Supporters of Oughtibridge School
The Meeting Place Social Cafe
U3A Stocksbridge
Valley Medical Centre
Valley Music Festival
Valley React
Waldershelf Singers
Wharncliffe Side Players Panto
Wharncliffe Side WI
Woodthorpe development trust
Worrall Community Association
What have we Achieved so far?