Work got underway this week on major improvements to the Stocksbridge Leisure Centre and Oxley Park as part of an investment in the area through the Towns Fund project.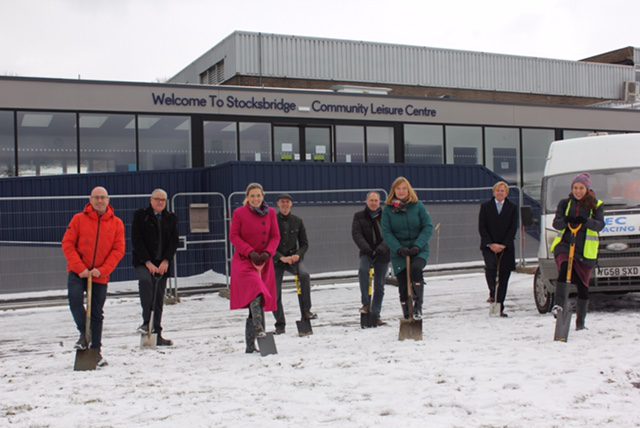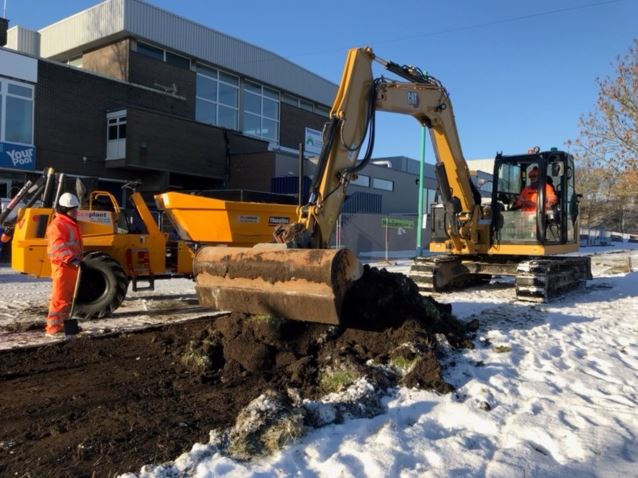 The Government announced in September last year that the town would receive an additional £500,000 as part of the Towns Fund programme to promote regeneration and economic development.
The investment will be used to create an outdoor seating and toddler play area which will link the new Stocksbridge Leisure Centre café to Oxley Park. There will also be improvements to access routes and landscaping and an upgrade to the car and cycle  parking at the centre.
Work started on the project this week with contractors EC Surfacing Ltd and Kompan Ltd moving on to site – the work is expected to take three months to complete.
This investment comes as the wider ambitious bid for up to £25 million of funding to transform the local area has been submitted to the Government for approval.
As well as a second phase of improvements to the Leisure Centre the wide range of projects outlined in the Towns fund bid also includes:
Improvements to walking and cycle trails
A major redevelopment of part of Manchester Road including a new library and community facilities
Public realm improvements to the Manchester Road area as well as better links to other parts of the town
A post 16 hub at Stocksbridge High School
A new local community bus network
The Towns Fund Board is co-chaired by Mark Dransfield, managing director of Dransfield Properties and the local MP Miriam Cates, and is made up of stakeholders and local business representatives as well as officers from Sheffield City Council and Cllr Julie Grocutt representing both Sheffield City Council and Stocksbridge Town Council.
The bid is aimed at prioritising investment which will attract new businesses and job opportunities to the town and responds to the key issues and concerns that local residents raised about connectivity, opportunities and regeneration through the public consultation process.
Graham Silverwood, from the Community Leisure Centre Trust and Chair of the Town's Fund Health and Leisure Sub Committee said: "We are delighted to see work started on this project at the Leisure Centre so soon.
"We would like to thank everyone who has helped to get these fantastic improvements from the concept stage to the contactors starting on site this month in such a short amount of time.  This project is going to make a huge difference to the whole community."
The bid for £25 million investment was submitted at the end of January and the board expect to have an update on the outcome later in the spring.
Mark Dransfield said: "The Towns Fund board has submitted an extremely strong bid which will make a huge difference to the town and deliver a number of truly transformational projects in Stocksbridge."
For more details about the Towns Fund projects and the proposals outlined in the bid visit the website www.welcometostocksbridge.co.uk