Stocksbridge Community Leisure Centre and Oxley Park are set for £500,000 of improvements, including the creation of a new outdoor playground, when the secured funding is approved by Sheffield City Council's cabinet next week.
For the full story see sheffnews.com – 
https://sheffnews.com/news/stocksbridge-s-oxley-park-and-community-leisure-centre-secures-boost-of-500-000?utm_content&utm_medium=email&utm_name 
Work will include
Creation of a new children's playground next to the Leisure Centre, with fixed equipment and a natural play area. The new playground will make use of the surrounding landscape and will be linked via a play trail to the new Leisure Centre café terrace.

Developing infrastructure which will include access routes, landscaping and additional bike and car parking provision to ensure the new developments encourage and facilitate sustainable travel but are also accessible to car users of the Leisure Centre and Oxley Park.

Creation of an outdoor seating terrace and toddler area for the new Leisure Centre Café which will link into the park.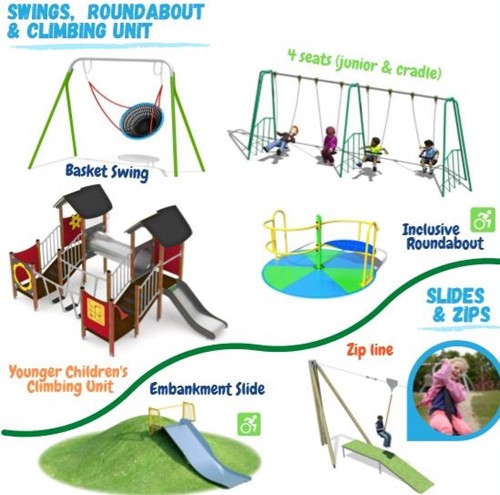 Proposed play equipment for the new playground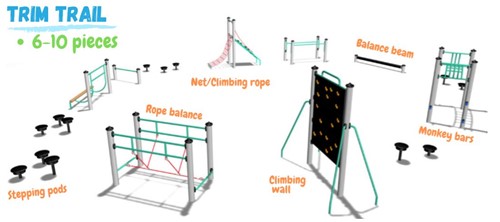 Proposed trail play for the new playground
Andy Clarke, Chief Executive of the Trust and Centre Manager said:
"We are delighted to be involved in this project which will create greater access to Oxley Park and link up with our new and popular 'Oxley's café, serving both Centre and park users. We hope the improved access and parking for both vehicles and cycles will attract greater use of these fantastic local resources."
The project will further enhance the refurbishment work recently completed to the Leisure Centre and will be the first phase in delivering priorities for Oxley Park which were highlighted in recent consultation.
We are working with a number of partners including Stocksbridge Town Council, Friends of Oxley Park and Steel Valley Project to deliver this and future phases which are planned to include a new All Wheels Facility and further enhancements to the footpath networks around the park.